Name
Marilyn: The Musical
Marilyn was the new musical workshop by Julia Houston and Tom Levitt about the life of Marilyn Monroe. It was renamed to Bombshell, which will soon make its Broadway debut.
Main
Ensemble
Musical Numbers
Edit
ACT I
ACT II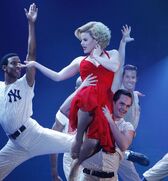 As mentioned more than once in the Pilot episode, the idea for a musical about Marilyn Monroe had been tried before on Broadway and was a complete disaster. "Marilyn: An American Fable" opened on November 20, 1983 at the Minskoff Theatre, where it ran for 16 performances. It had nine songwriters and 16 producers. The poorly written script hardly reflected Monroe's actual life. It never mentioned her troubled childhood, her insecurities, or even her death. According to the show, Monroe's only problem seemed to be producers not taking her seriously. In the musical's bizarre ending, she happily reunites with Joe DiMaggio and walks off into the sunset. In his book about famous musical flops "Not Since Carrie," Ken Mandelbaum writes: "The show seemed to be the work of eight-year-olds assigned to write a musical about Monore; so dumb it was almost inspired."

The same year, a different show, "Marilyn! The Musical" was presented in London and was slighly more successful. A pop-opera similar to "Evita," it followed Monroe's life more closely. It was presented by American film producer Elliott Kastner, librettist Jacques Wilson and his musical collaborator Mort Garson. British stage star Stephanie Lawrence received stunning reviews for her portrayal of Monroe. While preparing for the role, Lawrence told the Los Angeles Times, "I'm not trying to mimic Marilyn. I can't be her. I'm trying to portray her essence." Ironically, much like Monore, Lawrence suffered from depression and alcoholism and was discovered mysteriously dead in her apartment in November 2000.