Mr. & Mrs. Smith is an original song first featured in Enter Mr. DiMaggio, the third episode of the first season of Smash. Being an original song, it was written by Marc Shaiman and Scott Wittman. The version released as a single features Megan Hilty (Ivy Lynn) and Will Chase (Michael Swift) on lead vocals.
In the context of Bombshell, the number occurs when Joe & Marilyn arrive back in America from their honeymoon. Joe does his best to domesticate her with the promise of a simpler life. It was written by Tom Levitt and Julia Houston and was first performed at the New York Marilyn workshop with Ivy Lynn as Marilyn Monroe and Michael Swift as Joe DiMaggio.
A reprise of the song is also featured in Bombshell, sung by Joe DiMaggio at Marilyn's funeral.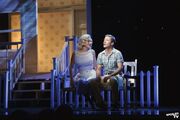 Marilyn:
Call the Justice of the Peace
But don't tell him our names
Don't put out a press release
Or mention baseball games

DiMaggio:
Book the nearest bridal suite
One room will suit us fine
For the desk clerk that we meet
The only autograph we'll sign is

Marilyn and DiMaggio:
Mr. and Mrs. Smith
Simply the folks next door

DiMaggio:
People without a single clue what
An agent or grip is for

Marilyn:
Yes

Marilyn and DiMaggio:
Nothing can beat the view
When as far as the eye can see, there's

DiMaggio:
No one but Mrs.

Marilyn:
No one but Mr.

Marilyn and DiMaggio:
Smith and me

DiMaggio:
For a home the man provides
That cottage built for two
We'll check the small town classifieds
Variety won't do

Marilyn:
Then we'll move to Main Street, USA
And sign the deed of trust
The mailbox at our hideaway
Will tell the whole wide world that we're just

Marilyn and DiMaggio:
Mr. and Mrs. Smith
Merely the folks next door

DiMaggio:
People who use their kitchen each night

Marilyn:
Who've never been in "Toots Shor"

DiMaggio:
Yeah

Marilyn and DiMaggio:
Nothing can beat the view
For as far as the eye can see, there's

DiMaggio:
No one but Mr.

Marilyn:
No one but Mrs.

Marilyn and DiMaggio:
Smith and me

No early calls
No big premieres
No lush romantic theme

We'll spend the nights
Making our own
Little League baseball team

We're no one you've ever seen

Marilyn:
Movie stars don't live anywhere here
Except on the local drive-in screen

Marilyn and DiMaggio:
Yes, I'd gladly disappear
If it might guarantee a view of

DiMaggio:
No one but Mr.

Marilyn:
No one but Mrs.

Marilyn and DiMaggio:
Smith and you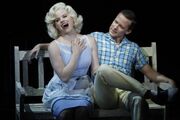 Later Reprisals
Edit
All three Marilyn's sang the song
Michael Swift was in all three performances
They were all on the stage in someway.

Ivy's being a fantasy
Rebecca and Karen's both being at the Boston Previews