Second Hand White Baby Grand is an original song first featured in Publicity, the twelfth episode of the first season of Smash. Being an original song, it was written by Marc Shaiman and Scott Wittman. The version released as a single features Megan Hilty (Ivy Lynn) on lead vocals.
In the context of Bombshell, the number finds Marliyn huddled around a piano at a party in New York. Marilyn meets esteemed playwright Arthur Miller. She tells him of how her often-institutionalized mother bought a piano once on an infrequent visit home, which is Norma Jeane's only memory of a happy moment between her and her mother, and that after searching for years, she found the actual piano, bought it, and now takes it with her wherever she lives. Arthur is deeply touched, they fall in love and marry. 
It was written by Tom Levitt and Julia Houston and was first performed in rehearsals for the Boston previews with Ivy Lynn as Shadow Self #3.
A reprise of the song is also featured in Bombshell, sung by Marilyn. The reprise depicts her death.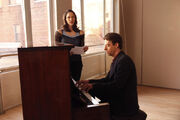 Marilyn:
My mother bought it second hand from a silent-movie star
It was out of tune, but still I learned to play
And with each note we both would smile, forgetting who we are
And all the pain would simply fly away

Something second hand and broken still can make a pretty sound
Even if it doesn't have a place to live
Oh, the words were left unspoken when my mama came around
But that second hand white baby grand still had something beautiful to give

Through missing keys and broken strings, the music was our own
Until the day we said our last goodbyes
The baby grand was sent away, a child, all alone
To pray somebody else would realize

That something second hand and broken still can make a pretty sound
Even if it doesn't have a place to live
Oh, the words are still unspoken now that mama's not around
But that second hand white baby grand still has something beautiful to give

For many years the music had to roam
Until we found a way to find a home

So now I wake up everyday and see her standing there
Just waiting for a partner to compose
And I wish my mother still could hear that sound beyond compare
I'll play her song 'til everybody knows

That something second hand and broken still can make a pretty sound
Don't we all deserve a family room to live?
Oh, the words can't stay unspoken until everyone has found
That second-hand white baby grand that still has something beautiful to give

I still have something beautiful to give