"The Cost of Art" is the 4th episode of Season 1, and the 4th episode of the series overall.
Synopsis
[
]
It's the first day of the official Smash workshop, and the drama's already starting. The mood between Julia and Michael Swift is awkward to say the least, andIvy is shocked to find Karen in the ensemble. Ivy has a hard time putting her frustrations to rest; when Karen's voice "overpowers" during rehearsal, Ivy succeeds in getting her removed from the number altogether. Karen just can't catch a break, and it seems like everyone's siding with the new star, Ivy.
After rehearsal,Derek invites Ivy to a birthday party he's throwing for young TV star Lyle West. Derek gave Lyle his big break back when he was 8 years old; the two are old friends. Ivy's thrilled at the invite, as she slowly makes her way into Derek's inner circle. Karen, however, is less than thrilled to find out from the rest of the ensemble thatIvy and Derek are getting cozy under the sheets. Is sleeping with the director the only way to get ahead in this industry?
Julia encourages Tom to put aside his hatred of Derek for one night and go to the party for Lyle West. Tom surprises Julia by announcing that he actually has a date... that his mom set up. The guy is everything he isn't - a reputable, straight-laced lawyer, and he's taking Tom to a steakhouse of all places; but Tom figures that he might as well give it a shot.
With all of her holdings in escrow during the divorce, Eileen finds herself in a bit of a bind when it comes to funding the workshop - that is, until she considers a famous sketch she has hanging in her office. It was a gift from Jerry and must be worth at least the $200,000 she needs for the workshop. Eileen takes the work of art to a gallery but runs into issues selling it; technically, it belongs to her husband. What Eileen needs is an outside buyer - someone who will take it off her hands under the table.
After being thrown out of a number a second time for upstaging Ivy, Karen is at her wits' end. She runs into another member of the ensemble, Jessica, in the hallway and unloads her frustrations on her. Jessica is surprised to see innocent "Iowa" finally letting loose and expressing herself, and Karen gains a bit of respect. Jessica and the other ensemble members take Karen under their wing, giving her a full-blown Broadway makeover and showing her the ropes to surviving the chorus.
Derek's party is in full swing, as Lyle West croons "Haven't Met You Yet" while playing the piano. The 15 year old is extremely precocious, making moves on Ivy and working the room flawlessly. Ivy is in a state of amazement at the beautiful setting; this is a life she could get used to.
Conversation at Tom's dinner date is stale; outside of being gay, the two literally have nothing in common. Still, Tom can't deny his date's attractive and definitely a catch. The two do their best to make it work, keeping the conversation flowing and trying to get past the awkwardness.
Eileen thinks she's found the perfect buyer for her sketch, and that buyer is Lyle. Eileen states her case, but Lyle proposes a different arrangement. What if he just holds onto the painting as collateral and takes a stake in "Marilyn the Musical" instead? When he makes back his money from the musical, Eileen can have her precious painting back. There's just one issue: he can't invest in a show that he hasn't seen. Lyle requests a bit of a preview before he makes a decision.
Eileen rallies key members of the show together to put on an impromptu performance of one of the show's musical numbers at the party. The song of choice is "I Never Met a Wolf Who Didn't Like to Howl" a suggestive number that showcases Marilyn's playful, sexual side. Ivy hits it out of the park, and it's clear that Lyle is sold. Eileen will have her workshop after all!
After giving Karen her Broadway overhaul, the chorus takes her out for a rowdy night on the town. Karen proves she can stay in sync with a complex dance number to Adele's "Rumour Has It" along with the other chorus members. But she also gets her moment in the spotlight, stepping out with an amazing vocal performance. Dev watches on, floored by his girlfriend's raw talent.
Cast
[
]
Special Guest Star:

[

]
Recurring Cast:

[

]
Neal Bledsoe as John Goodwin
Eisa Davis as Abigail
Leslie Odom, Jr. as Sam Strickland
Savannah Wise as Jessica
Phillip Speath as Dennis
Ann Harada as Linda
Co-Stars:

[

]
Wesley Taylor as Bobby
Jenny Laroche as Sue
Condola Rashad as Cyn
Songs
[
]
Trivia
[
]
This episode scored a 2.4 rating 18-49 with 6.80 Million total viewers
Videos
[
]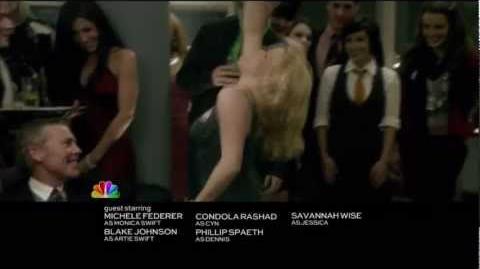 Screenshot Gallery
[
]
[

]